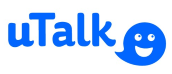 uTalk is for anyone who wants to learn key words and phrases in another language. Their language courses, available in 3 "levels" for learner progression, are perfect for beginners getting started in a language and invaluable for "intermediates" looking to brush-up or to fill in gaps in their vocabulary and pronunciation.
Scientists, researchers and linguists all pooled their expertise to help make uTalk, and the approach uses strong visual imagery and fun games and quizzes for memory retention. The games and exercises enable learners to practice their pronunciation and compare it against a native speaker's pronunciation. Rather than following a set learning sequence, the courses allow the freedom to explore topics in any order and repeat as often as required, so that learners are fully "in control".
The uTalk courses provided by Course Source can be accessed via any LMS. If you don't see your preferred language in the current course list, please just ask (as we can easily activate it for you). uTalk support over 100 languages, and we can provide versions with course the instructions in other languages (for the benefit of non-English speakers).