Wine and Champagne Service Skills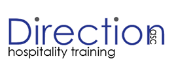 Overview
Develop an understanding behind the procedures you have been shown on opening wine. Learn more about bin numbers, the temperature for storing wine and how to prepare ice baths. Watch videos and complete activities that show you the best practice standards of the hospitality industry and increase your confidence.
Audience
All operational F&B staff in hotels, restaurants and bars to develop their knowledge of Wine and Champagne service. Modules can be used as a complete programme or individually for specific training needs or refreshers. Individuals may like to develop their own knowledge and confidence or use the module certificates at interviews.
Objectives
Prepare equipment for wine and Champagne service
State how to present, open and pour wine and Champagne
Increase awareness of some problems arising when serving wine and Champagne
This course is CPD Certified and endorsed by the Institute of Hospitality.