Team Building Within Multi-Disciplinary Teams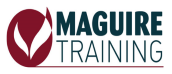 Course Overview
Aim: The delegate will develop skills and techniques which they can take back into the work-place and use to build a team in a practical fashion, particularly when working with other departments.
Learning Outcomes
By the end of this module, delegates will be able to:
Understand the main differences between leading and managing
Develop your own individual style through awareness of the 4 different styles
Understand Management by Objectives ( MBO )
List the 7 ways to influence others and when to use each one when in discussion or negotiation
Understand the stages a team passes through to achieve its' potential • Highlight your own team role
Who Would Benefit
Those working in the healthcare sector within a role that requires them to function as part of a team.
Approach
Maguire Training have created over 100 video-based modules using their own professional training team to present on subjects they are experts in. These videos are jargon-free and delivered with the enthusiasm and engagement you would expect from some of the country's leading business skills trainers. Each module has interactive questions to check learner knowledge and is accompanied by supporting notes for the learner to read in their own time. Each module is a powerful package of learning designed to maximise learner development.