Taking Wine orders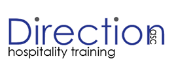 Overview
A short interactive course developing the understanding behind the standards and procedures of writing wine orders.
Audience
All operational F&B staff in hotels, restaurants and bars to develop their knowledge of Wine and Champagne service. Modules can be used as a complete programme or individually for specific training needs or refreshers. Individuals may like to develop their own knowledge and confidence or use the module certificates at interviews.
Objectives
Write a clear and accurate wine order
Communicate wine orders
Identify abbreviations that may be used
This course is CPD Certified and endorsed by the Institute of Hospitality.