Suspicious Packages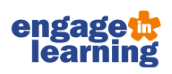 Course Overview
Do you know how to decide whether an unattended bag is a piece of lost property or something more suspicious?
What would you do if you found a suspicious looking bag at work? This highly interactive course from Engage in Learning uses a series of scenarios and quiz questions to help you decide. The learner is faced with various dilemmas and they receive feedback on their choices.
Scenarios include a bag left in Reception, a parcel delivered at work or in the street. This course is suitable for those whose responsibility it is to deal with suspicious packages, as well as a great reminder for everyone in general.
What tells you that a package could be dangerous?
Do you know what to do if you are suspicious of a bag or package?
This course will give you clear guidelines to help you identify suspicious bags and packages and deal with one if you do
Learning Outcomes:
What is a suspicious package and what is not
How to deal with a suspicious package
Learn the 4C?s Principle: Confirm, Clear, Communicate, Control
Advice for handling mail
Target Audience
Anyone handling parcels or packages as well as a general guide for all staff