Safety Aware for hotel staff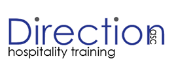 Overview
Lots of activities ensure learners are totally concentrating, even if they have done this before! There is a choice of modules to ensure targeted learning. Versions are available for Food Service staff or Reception & Administration staff or Housekeeping staff or of your staff are general across all departments have the all in one version!
Audience
All operational staff in hotels, restaurants and bars to ensure they are aware of all health and safety procedures. Modules can be used as a complete programme or individually for specific training needs or refreshers. Individuals may like to develop their own knowledge and confidence or use the module certificates at interviews.
Objectives
State your responsibility for health and safety at work
Identify potential hazards found at work and safe working practices
State how to report an accident at work
This course is CPD Certified and endorsed by the Institute of Hospitality.