Responding to a cyber attack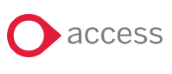 Overview
This activity explains how to reduce the impact of cyber attacks and restore lost data.
This course forms part of the Access Group's latest range of cyber security training. It is accredited and endorsed by the UK's National Cyber Security Centre (NCSC), an organisation with a mission to make the UK the safest place to live and work online
Objectives
On completing this activity, you will be able to:
Take appropriate steps to mitigate damage and restore data following a cyber attack,
Report incidents,
Inform internal and external stakeholders,
Review lessons learned from incidents, and
Update organisational plan.