Project manager leadership (e-learning track)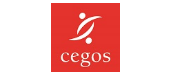 This Cegos e-Learning Track for 'project manager leadership' offers a variety of formats to ensure that a learner is engaged with the learning experience, learns the new skill, practices the skills in real-life situations, and applies the learning as part of new behavior. Cegos courses feature engaging interactivity to capture learners' attention, ensure skill development and enable behavior change. All courses are built tablet-first so they're suitable for use on mobile devices.
This particular e-learning track is comprised of three "sprints" which build up the learning for the subject:
Giving positive and constructive feedback
Managing project team meetings
Getting the best of negotiation
Each sprint (sub-topic) starts with a trigger video to entice learners. Then, followed by one or more learning modules for the core instruction, skills building and practice. Finally, a Job Aid provides handy, ongoing reinforcement.
ENGAGE WITH TRIGGER VIDEOS
EXPLAIN WITH MODULES
EXPERIMENT WITH JOB AIDS
Trigger Video
Short, animated video teaser. 1 minute duration.
Objective: to entice interest in the topic and learning objectives Learners often need to be enticed to improve their skills through elearning. Each Trigger Video offers a brief introduction to the topics covered in a specific Classic Module, encouraging the learner to engage with the course.
Modules
Intreractive e-learning to deliver core knowledge and skills:
Classic: standard elearning module. 15 to 20 minutes average duration
Objective: to improve specific skills
Our classic courses are the basis of a solid elearning program. On their own, each course provides an engaging, interactive learning experience on a key business skill.
Focus: video-based simulation. 10 to 12 minutes average duration
Objective: to master a specific behavior
Real-life interactive scenarios of common situations learners are likely to encounter in the workplace. Focus Modules are designed to help make learning stick through practice.
Intensive: mobile refresher. 7 to 10 minutes average duration
Objective: to refresh a previously-learned skill.
Learners can practice new skills based on various situations with Intensive Modules. Short, mobile modules are an ideal way to provide reinforcement in the moment.
Job Aid
Downloadable PDF. One page per topic
Objective: to enable knowledge transfer on-the-job using real-life examples.Even the best learning experience does not guarantee behavior change if the new skill is not practiced on the job. Each Job Aid offers concise reinforcement, in-the-moment, so new skills can be applied in everyday work situations.
This "e-learning track" is a programme of training that contains 4 Cegos course modules (with the other elements provided free of charge), so it would count as 4 courses when you buy a license or a number of enrolments.