MOS: Microsoft Office Word 2016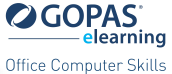 This comprehensive and interactive Word 2016 course takes you through all aspects of the application, from introduction to advanced level. The course also provides full preparation for the exam (77-418). Using interactive exercises and software simulations, you'll quickly become familiarised in it with the Word 2016 environment and its documents, functions and features.
Course Modules
Create and manage documents
Including: introduction to Word, new documents, editing PDFs, searching, hyperlinks, bookmarks, customisation, toolbars, custom keyboard shortcuts, print and save.
Format text, paragraphs, and sections
Including: editing and formatting, automatic corrections, symbols and drop caps, creating styles, pagination, advanced setting of headers and footers, columns, multi-page documents.
Create table and lists
Including: text to tables, graphical appearance of tables, editing the layout, calculations in tables, numbered and bulleted lists, multilevel lists.
Apply references
Including: footnotes and endnotes, index, bibliography, captions and tables of figures.
Insert and Format Objects
Including: custom cover page, auto text, inserting and formatting shapes, SmartArt graphics, inserting and editing pictures.