MOS: Microsoft Office Outlook 2016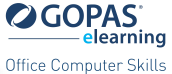 This course gives you a comprehensive understanding of Microsoft Outlook. Using interactive exercises and software simulations, you'll quickly become familiarised with the Outlook 2016 environment and its documents, functions and features. This online training course also provides the complete knowledge for Microsoft Office Outlook 2016 (Exam 77-423).
Course Modules
Manage the Outlook environment
Includes: introduction to Outlook, people view, mail settings, the new interface, view options, customising layout, viewing received messages, setting an e-mail account, signatures, rules, automatic replies, saving and printing, data files, searching, managing contacts.
Manage messages
Includes: creating a new message, replying to messages and forwarding them, mail folders, attachments, tracking, delegate access, editing, arranging the message list, subfolders and categories, junk email, viewing messages by conversation, message list features, flagging messages for their follow-up.
Manage schedules
Includes: recalling a meeting and adjusting the calendar, sending your calendar, viewing the calendars of your colleagues, sharing the outlook data, editing appointments and events, recurring appointments, sneak peeks, scheduling a meeting, proposing a new meeting time, tasks, notes, managing the journal.
Manage contacts and groups
Includes: creating and printing contacts, address book, contact group.