MOS: Microsoft Office Excel 2016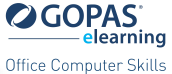 This course gives you a comprehensive understanding of Microsoft Excel and takes you, step-by-step, through the tasks associated with creating cell data, formatting cells and worksheets. With easy-to-follow software simulations and step-by-step guidance, you will also learn how to apply formulas and functions, and present data visually using the many useful features of Excel. Bookmarking allows you to dip in and out, so you can learn whenever suits you, plus you can jump directly to specific topics of interest quickly and easily.
This course also serves as a preparation for the examination MOS - Microsoft Office Excel 2013 (Exam 77-420).
Modules
Create and manage worksheets and workbooks
Includes: manipulating worksheets, find and replace, file properties, hyperlinks, themes, columns, customising toolbar and ribbon, macros, panes, publishing to web.
Create cells and ranges
Includes: data entry, moving/copying, text series, custom lists, alignment, formatting, cell styles, advanced paste.
Create tables
Includes: advanced work with tables, filtering, sorting, duplicate data.
Apply formulas and functions
Includes: cell ranges and references, formulas, AutoSum, logical functions, conditional calculations, text functions.
Create charts and objects
Includes: chart creation and design, chart formatting, shapes, SmartArt, pictures in Excel