MOS: Microsoft Office Access 2013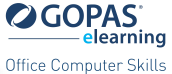 This comprehensive and interactive Access 2013 course takes you through all aspects of the application, from introduction to advanced level. The course provides full preparation for the exam (77-424). Using interactive exercises and software simulations, you'll quickly become familiarised with the Access 2013 environment and its documents, functions and features.
You will become familiarised with the terminology concerning relational databases and with the basics of working in the Access program. You will try various ways of creating tables and setting the properties of their fields. You will learn to further analyse the data in tables through select queries, including the creation of calculated fields in them. You will set relations between tables and ensure their referential integrity. You will also familiarise yourself with an easy way of creating simple forms and reports.
You will learn to create calculated fields in queries that operate with functions. You will create totals queries and parameter queries. You will familiarise yourself with the properties of table joins and will examine how they can affect the result of queries. You will create forms in the Design view and will learn to insert calculated fields into them. You will also design and edit reports and will learn to perform various calculations in them. You will also learn how to insert controls into forms and reports, including subforms and sub-reports.
Modules
Create and manage a database

Build tables

Create queries

Create forms

Create reports