Handling Complaints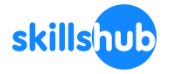 This CPD certified online session has been created by expert trainers to improve performance and effectiveness for those working in the retail environment. It is part of the wider "Retail Skills Academy" programme (see below) and can also be used as a "stand alone" module for training for this specific topic. The course uses engaging, interactive e-learning which is delivered at a brisk pace; ensuring that the full session can be completed in 20 to 25 minutes.
All of the courses in this range are interactive to keep your attention and are a mixture of presenter led training, online presentations, quizzes and exercises. And at the end of each session there's a 1-page cheat sheet to walk you through exactly what you should do when it's time to implement the training back in the workplace – after all, that's when the real work starts!
Contents:
A complaining customer is a great opportunity…
When a customer complains they are dissatisfied with something. If they didn't complain and just left the store you would never know they were dissatisfied and would likely never see them again.
But they did you the favour of expressing their dissatisfaction.
The rest is up to you.
In this session we will show you the skills and strategies you need to handle any complaint you will encounter in the retail sales environment.
You will learn:
Why you should apologise – even if you're not "wrong"
Why resolving a complaint has "real" value
What you should, and should not, promise to a customer
And much more…
Retail Skills Academy:
This course forms part of the "Retail Skills Academy", an online training programme consisting of 18 online training sessions from MTD Training that you can take from the comfort of your own desktop, mobile or tablet. The main purpose of the Retail Skills Academy is to provide a firm foundation of the key skills required in a modern retail setting.
To achieve the Academy certificate, you must complete all 18 sessions (within a 12 week period) and request/complete the end of programme assessment which consists of 30 multiple choice questions.
All 18 courses are available individually and also as a "complete" Retail Skills Academy package (which represents best value for those wishing to complete the full programme).
The sessions are practical and interactive. We don't believe in long, lecture like online training. Instead, this programme will get you engaged from the outset.