GDPR plus Cyber Security Awareness pack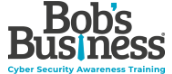 This course bundle includes the Bob's Business GDPR course together with related training modules, providing an enhanced knowledge of GDPR and Cyber Security Awareness issues. The training takes you beyond GDPR compliance and will help you to ensure that staff in your business are fully "cyber security aware", in line with best practice. The bundle includes the following courses:
GDPR (60 minutes)

Perfect Passwords (15 minutes)

Virus Vigilance (15 minutes)

Web Woes (15 minutes)

Phishing Fears (15 minutes)

Identity Theft (15 minutes)
CONTEXT
GDPR is the biggest shake up in Data Protection in a generation. The new legislation was introduced to bring Data Protection into the modern era by extending its scope to include information such as IP addresses under the banner of 'personal data' and giving more rights to individuals regarding their own data. Our courses will give you all the information required to prepare you for the new regulation and ensuring your organisation is following the necessary procedures.
One of the major changes is regarding the fines for those organisations that do not comply with the new regulations. The Information Commissioner's Officer (ICO) will have the power to fine organisations €20,000,000 or 4% annual turnover depending which is higher.
We have developed a suite of eLearning modules to help raise awareness of the GDPR and educate your staff on how it will affect them.
GDPR will be a difficult topic to grasp for staff, it's a lot of information to consume. This is why we have created a nine part course which focuses on engaging the user through bite size modules and vibrant animation. This course was built alongside data protection experts, The Data Protection People, ensuring you can trust the quality of the content included.
CONTENTS:
GDPR:
The GDPR component of this course bundle covers the following nine topics:
1. Why is GDPR So important
GDPR is the biggest change in Data Protection for a generation, but do you know how it will affect you?
Repealing the Data Protection Act, GDPR makes changes to the way you use, process and store data. While the changes might seem small, they will affect everyone
This module covers Good Practice, Accountability, and the steps you and your organisation can take to compliance and an overview of the principals you need to follow.
2. Key Definitions
This module will cover the key terminology you should know relating to GDPR. If you've considered your compliance with current Data Protection laws before hopefully some of these will be familiar to you.
3. Key Changes, Concepts and Processing Conditions
GDPR might sound intimidating, but it isn't too different to the Data Protection laws you are already following. Some of the content has been updated and brought up to speed with the technological changes we have gone through. Some content remains very similar to the laws you already follow.
In this module, you will learn the key changes from the DPA Act 1998 and you will be advised on key concepts and processing.
4. Key Principals
There are six data protection principles outlined in GDPR that you will need to follow to ensure that you and your organisation are compliant when it comes to European data protection law.
Within this module, we will inform you on the six data protection principles and what these mean when processing data within your organisation.
5. Privacy Impact Assessments and Security Measures
Upon completing this module, you will understand what an impact assessment is and when you have to do one. What's the extent of the security measures an organisation is expected to take to protect data?
6. Data Subjects - additional rights and consent
'Data Subjects' is a term you will hear a lot when it comes to GDPR, but what are they exactly? Within this module, you will learn about the role, rights and obligations that data subjects play under GDPR.
7. Data Protection Officer
Some organisations need to hire a Data Protection Officer under GDPR, but what exactly is a DPO?
Within this module, we will tell you what a Data Protection Officer is, the role they have within your organisation and how to tell if you need one.
8. Fair processing
What does it mean to process data fairly? This module will investigate in more detail the meaning of fair processing and one of the key steps your organisation will need to take to satisfy this requirement.
9. Data Breaches and Noncompliance
The phrase 'data breach' sounds scary. But if you've put all the relevant GDPR processes in place, then there is little need to worry as they should be few and far between. This module covers, what a personal data breach is, when should you declare a breach, what you should include and the sanctions which you could face for non-compliance with GDPR.
SUPPLIMENTARY MODULES (also included in this bundle):
PERFECT PASSWORDS
Protect Unauthorised Access with a Gate of Iron by Learning:
How to create an unbreakable password
How and when to change it
Why your company's security relies on it
VIRUS VIGILANCE
Protect Unauthorised Access with a Gate of Iron by Learning:
Where a virus is most likely to strike
How to spot a virus on your system
How to open dangerous emails (safely!)
WEB WOES
Surf Safely, by Learning:
How to identify and avoid online threats
How to access secure websites
Best-practice when filling out forms online
PHISHING FEARS
Arm Yourself against 'Phishers' Now, by Learning:
How they try to catch you
What happens if you take the bait
How to stop to prevent being caught
IDENTITY THEFT
Make Sure You're the Only You, by Learning:
The professional and personal risks of identity theft
How to protect yourself
How to safely dispose of sensitive data
So get started and stay unique, right now.