Essential Digital Skills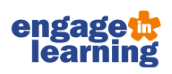 Course Overview
A digital learning package designed to introduce employees who need to improve their basic digital skills and literacy. The suite of four bitesize courses will teach learners how to be vigilant when using social media, use search engines effectively, carry out safe online transactions, and ensure their personal information is protected from malware.
Subject
Essential digital skills
What's in it for the organisation and learner?
This will be a gateway suite of courses for learners who want to improve their digital skills and perhaps undertake other e-learning and qualifications, but currently lack the digital literacy that most institutions and companies require when enrolling on a course or applying for jobs. They will gain a foundation for their learning which will aim to give them more independence when navigating around their devices and communicating with others.
Learning Outcomes:
Course 1: Social Media Awareness
In this course we will explore:
The advantages of using social media professionally
What could happen if you use social media inappropriately
The do's and don'ts of social media
Course 2: Digital Communication
In this course we will explore:
The different types of communication platforms and how they could help your team.
The shortcuts and accessibility features within your devices and on word processor documents, and how they can help you get the best out of your device with just a few tweaks.
The similarities between video conferencing tools, and how moving to virtual communication platforms can be made easier by remembering a few key points.
Course 3: Online Searching
In this course we will explore:
Some tips and techniques to get the best out of your browser searches.
How to recognise reliable from unreliable sources, and what questions to ask when deciding if information would be suitable for certain projects.
What 'confirmation bias' means and how to ensure it doesn't influence your research or results.
Course 4: Transacting Online
In this course we will explore:
The importance of protecting your devices to help prevent malware and phishing scams.
Where computer viruses come from and how to spot signs of malware or phishing scams on your devices.
The best ways of protecting your device, how to respond if your device has been hacked, and some best practice ways to ensure that the websites you visit are legitimate and safe to use.
Target Audience
Staff in work who need to improve their basic digital skills and literacy:
Employees whose companies have adopted a hybrid working approach after exclusive f-2-f
Employees who don't have desk-based jobs, or have minimal use of devices for specific tasks
Employees who have been forced to move industries to find new employment
Employees who are unfamiliar with how their devices should be protected