Clinical Cleaning in Hospitality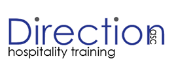 Overview:
All About Clinical Cleaning in Housekeeping is an additional module in the Professional Housekeeping programme and explores the enhanced cleaning protocols that hotels have started to use since the Covid 19 pandemic in order to safeguard their guests and staff.
Audience:
Operational housekeeping staff in hotels and guesthouses. Professional Housekeeping can be used for new staff to support internal on job training, to set a benchmark of Housekeeping standards for the whole team, to support the development of knowledge behind the practice, as part of your own training schemes or by people wishing to gain knowledge of the Housekeeping role in order to apply for a job.
Objectives:
Describe how clinical cleaning contributes to controlling the spread of infection
Identify the cleaning products used in clinical cleaning
State the stages of disinfection and how to apply the process to housekeeping tasks
Identify how cleaning techniques and procedures contribute to reducing the risk of cross contamination