Arabic Intermediate (Talk the Talk)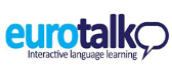 Ideal for
Teenagers and young adults looking to learn relevant social vocabulary in Arabic.
Learning complete sentences instead of individual words.
Building confidence to speak Arabic in different situations.
How does it work?
You learn useful phrases for a range of social situations, such as 'I'll send you a text message later' and 'We won the game on penalties'.
Quizzes within each section test you on the vocabulary you have just learnt.
Improve your pronunciation with the recording quiz, which allows you tocompare your accent against that of a native speaker.
Feel motivated to learn by earning points that will win you bronze, silver and gold awards.
Printable vocabulary sheets with each topic for you to take away with you and keep learning on the move.
Key features
Video footage allows you to see body language and lip movements of native speakers.
Covers nine different everyday situations: family, school, hobbies, travelling, home, technology, work, sport and the world.
Additional vocabulary section teaches essential words to help you start constructing sentences of your own.
Learn from any of over 75 native languages.