About Wine and Champagne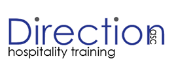 Overview
What are old world and new world wines? … How is wine produced without being too technical!?… What flavours do merlot grapes have?….Vintage means the wine is old doesn't it? … How can I find out how strong a wine is? ….. Which is a dry champagne? … Champagne and sparkling wine are the same aren't they? … I always recommend white wine with fish and chicken?…..
Discover an appreciation of wine and champagne using a range of activities without being stuffy!
Audience
Operational front of house staff in hotels, restaurants and bars.
Objectives
Increase knowledge of wine and Champagne
Identify typical wine flavours to match with food
This course is CPD Certified and endorsed by the Institute of Hospitality.