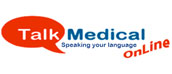 TalkMedical Online courses are relevant to the health care work environment. Their aim is to aid health care workers and medical support staff to have improved understanding and productivity within the workplace. They endeavour to provide training of the highest quality using methods which have proven to work from years of experience teaching students in classrooms in hospitals and GP practices around the UK.
TalkMedical Online is committed to offering real value and quality products. They are continually developing new course content and aim to bring Health Care Courses covering a variety of subjects enhancing skills, understanding and interaction with colleagues and the users of health care.
Their engaging online courses are the result of many years of teaching in hospitals and GP practices. The courses are designed to improve knowledge and understanding in a relaxed and enjoyable fashion. Their courses enable students to achieve learning by use of established educational methods and includes fun exercises, video presentations and quizzes.