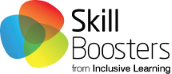 SkillBoosters courses focus on enhancing performance by developing individuals' knowledge, competencies and skills.
SkillBoosters was founded in 1999 to bring engaging film and television production values to what was then VHS, DVD and CD-ROM-based soft skills training. Their mission hasn't changed, and film-making is still at the heart of everything they do, but the way they distribute their video-based training online around the globe certainly has. Today, SkillBoosters' video-based training is in use by many of the world's leading commercial, governmental, educational and charitable organisations.
They have learners in 150 countries and courses in 17 languages. Their content is being streamed to the smartphones, tablets, PCs and classrooms of the world. They are passionate about working with like-minded organisations and individuals who share their belief that business and individual success, now and in the future, comes from creating a better workplace where everyone can bring their whole and best self to work, every day.