Purchase SkillBoosters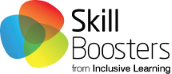 User Licence
SkillBoosters courses are available with an annual User License which includes access to their entire course library*. The subscription fee, based on the size of your organisation or region, provides 12-months' on-demand access for unlimited users to as many of their courses as you want.
Need an LMS? We can provide you with a dedicated, branded instance of our LMS for your use. If you are only using the LMS to manage courses purchased by ourselves, subject to a minimum course purchase value of £500.00, we can provide you with your LMS with no annual license fee.
*Please note that SkillBoosters courses are not available to purchase individually, only as part of a User License (providing access to their full course range).
You need to be logged in as a full member (buyer) in order to view publisher specific pricing and place orders.