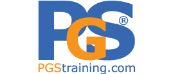 Proactive Gas Safety Ltd (PGS) deliver high quality, specialist safety training courses for users of compressed & cryogenic gases and compressed air tools.
PGS has a reputation for excellent customer service and outstanding quality of training. They help companies implement and demonstrate effective control of their compressed and cryogenic gas products and systems, offering complete training packages which incorporate both the end user and management.
Within their business they have individuals with years of relevant industrial and teaching experience which has enabled them to build a robust portfolio of training.
Their eLearning courses have been developed by their technical team, working closey with industry and the British Compressed Gases Association (BCGA) to ensure the content of the courses are relevant and fit for purpose.
All PGS training courses are accredited by EAL, who are the leading awarding organisation in the sector. To meet their exacting criteria they follow strict guidelines in the content, administration and delivery of the training and are regularly assessed to ensure compliance.