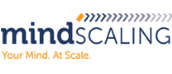 Mindscaling are a leading publisher of high-quality, interactive online training. Our expert-driven micro-learning techniques are conveniently packaged into a range of courses (with each course being a "learning pathway") that help managers to improve their personal impact.
Each business is unique, with specific goals and strategies. Your leaders, managers, and team members must learn and practice new behaviors that create successful outcomes. You also probably have a good idea as to what is appealing to your employees and you're tired of spending money on generic training programs that don't work. Within each product we create, we use a variety of applications to ensure the experience has a next-generation look and feel. Today's learners are turned off by canned content and bland corporate tones. Content, images and video needs to be fresh, honest, and real. Below we describe some of the key custom learning elements we use.
Micro-Learning Sparks: Often designed for drip-feed delivery over time, our efficient micro-learning design features on-camera talent delivering a key idea in a short, memorable story. We include a workplace example, ideas for action, a quick learning check and a downloadable resource.
Interactive Exercises: Drag and drop, matching, multiple choice, short scenarios, content exploration – these are examples of learning elements that make for an engaging experience.
Thought-Leader Video: In many of our Elearning productions we bring in experts from the field in which we are working. We will often enlist a bestselling author and speaker who can deliver video content in a compelling way
Learning Checks: We create short learning checks or quizzes to verify we are meeting objectives and to give learners some feedback on how they are progressing.