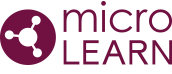 MicroLearn is a fresh product set, first launched in 2017 by Jenison Digital Learning (an established publisher of business courses) and now fully owed by eLearning industry leaders the Access Group. MicroLearn understand that people are increasingly time poor and time at work is a luxury. Training can be boring and long-drawn-out, but it doesn't have to be! With this ethos, they have designed a catalogue of resources which can be tailored to your learning needs.
These resources are designed to give you the 20% of knowledge you actually need to know, cutting out the traditional waffle! Each module is designed to be completed within 15 minutes of study time and they are well structured and designed, with fresh and engaging creative treatments, and utilising a variety of learner interaction and assessment methods. The current catalogue consists of 160+ modules covering Business Skills, Health & Safety, Compliance and Personal Development and MicroLearn are releasing new content all the time.
The MicroLearn resources are offered on an "annual subscription" basis (either to the full library or a custom subset), giving businesses the flexible benefit of unlimited access for their staff.