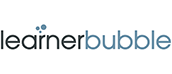 Learner Bubble provides a catalogue of online learning that forms the backbone of your learning and development, covering all of your standard statutory Health & Safety and Compliance requirements plus an extensive range of Business Skills. All learning has three principles built into each and every one of our courses:
'Goldilocks' learning. That means always striking the right balance and tone: not too academic as to become inaccessible nor too simplistic or quirky as to seem condescending. In this way, we create what clients have described as 'straight-forward, honest learning.'
Quality Certified. You need to know that the learning is effective and to a high standard. So, all our courses are to certified CPD standards and also RoSPA accredited in the case of Health & Safety subjects
'What you do is more important than what you know.' We are looking to achieve long-term behavioural change as a result of our learning, not just short-term knowledge transfer.
We achieve that these objectives through:
Clear and well-designed learning from an instructional point of view from the outset.
Judicious use of mixed media including, presenter, animation, videos, text and audio and engaging graphics.
Interaction throughout, including 'test then tell' questions to engage learner faculties.
Scaffolded learning including use of case studies, scenarios and quizzes to re-iterate learning and ensure its practical application.
We look forward to providing you with a cost-effective, learning-effective solution.