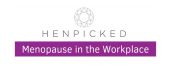 Making menopause an inclusive subject that no one is afraid or embarrassed to talk about helps make your organisation a great place to work, giving employees the confidence to ask for help and support if they need it.
Our highly skilled team of menopause in the workplace experts work closely with you to help introduce the right support in your organisation. We'll equip you with the facts about menopause, the latest clinical thinking and get the conversation buzzing throughout your business.
Our expert background in menopause, learning and development, and communications means we know how to reach each and every one of your colleagues with your message, engaging and inspiring them to understand the role they play.
Henpicked: Menopause in the Workplace's online course is delivered by experts and ensures faster, easier and more accessible menopause learning with CPD accreditation.
Our online training for line managers and colleagues takes just 30 minutes, equipping everyone with the understanding of all they need to know and do to support menopause at work. Set across easy-to-follow modules.
With evidence-based information backed up by real-life scenarios, the modules give a clear understanding of the importance of supporting menopause at work, while quizzes and videos for each module reinforce the message and assess learning.
Our eLearning will equip your employees with everything they need to feel confident talking about menopause at work