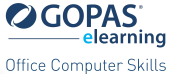 GOPAS is a provider of highly interactive self-study courses for Office Computer Skills training. Courses on Microsoft Office, ECDL and Windows are available in English, Arabic, French, German, Czech and Slovak localisations.
The courses are flash based and feature a pre-assessment that will map out what subjects need to be covered, and a final assessment which must be passed in order to "complete" the course. HTML versions are due for release in 2018.
Courses comprise of a series of lessons and a final test. Each lesson includes an interactive tutorial based on a simulation of the application, a supplementary exercise and a brief quiz for reinforcing and verifying the learner's acquired knowledge.
Tutorial instructions are displayed in the same window as the application and are simultaneously read aloud. The tutorial also includes the tasks that the student is required to complete in the simulated application in order to complete the lesson.
Exercises consist of a series of assignments to be completed in the real application in order to practice the skills covered in the tutorial. This training usually includes a source file and another file that shows the correct result of the exercise.
The courses can be re-branded by replacing the GOPAS logo and the four pictures which appear in four places of each lesson (at the beginning of a lesson, after finishing a tutorial, after finishing the exercise and after finishing the quiz). The fee is £1,000 for the full set of courses required with the logo and suitable graphic files provided by the client.