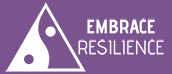 Welcome to Embrace Resilience, your premier destination for high quality e-learning experiences! At Embrace Resilience, we are dedicated to equipping individuals and organisations with the essential skills and mindset needed to thrive in today's dynamic world. In addition to Compliance and Care we offer a diverse range of courses designed to foster resilience, personal growth, and enhance professional development.
Embrace Resilience brings together a team of experts and educators to create engaging learning journeys. Our carefully curated courses cover topics such as Managing Stress and Anxiety, Change and Resilience and many more. Over the years, Embrace has helped thousands of learners from all backgrounds to acquire the tools they need to navigate challenges with confidence.
Don't just overcome obstacles, embrace them as opportunities for growth. Embrace Resilience – where learning and resilience intersect for a brighter future.