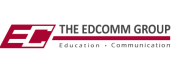 Founded by recognized Consulting industry professionals, Edcomm has expanded from a simple consulting business to a global enterprise, boasting over 2,500 clients that utilize the Edcomm brand of training and assessment for all of their business needs and initiatives. Edcomm's mission has remained the same for its 29+ years: to provide creative and innovative education and communication consulting solutions to the banking and financial services industries. During this time Edcomm has built an efficient methodology and tool-set, a vast curriculum, a loyal clientele, and a stellar global reputation.
Today, Edcomm has worked with over 2,500 clients in the banking and financial services area. Edcomm's Banker's Academy curriculum has over 3,000 educational modules (Topics) in Compliance, Teller, Ethics, Lending, Platform Sales & Service, Commercial, Investment, Treasury, Islamic Banking, AML, Basel II, Security, Fraud Prevention, Call Centre, Leadership, Communication, Systems Training, Project Management, and Problem Solving.
Course Source customers can easily acquire Edcomm's range of e-Learning courses in an array of key business topics, and with particular emphasis in banking and finance training.