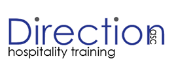 A passion for hospitality drives the focus of Direction Training to deliver professional training for industry staff, make professional learning accessible for the smallest of businesses and achieve excellent customer service support in our own right. They have a strong and sound reputation and only people who have our values at heart work with us. Their courses are designed by operators for operators.
If you want to deliver consistent standards, upskill your staff, set a benchmark for your standards or address a specific training need, Direction Hospitality Training have a range of professional eLearning programmes and modules using recognised best practice standards. With our operational background and experience they understand hospitality and know that no business works the same way.
Courses form Direction Training are CPD Certified and endorsed by the Institute of Hospitality.