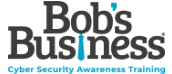 Bob's Business is an information security awareness company on a mission to help you bridge the knowledge gap between IT and end users. Your team will be provided with engaging and memorable ways to keep your sensitive information secure.
You shouldn't be taking risks with your company's sensitive information and by aligning Bob's Business' awareness campaigns and training materials with your policies, natural behavioral change throughout your organisation will occur over a short period of time.
Bob's Business' cloud-based training modules are clear, concise and jargon-free. Using relatable animations and stories, your employees learn the practical information security skills they need.
With Bob's Business you can be sure of a cost effective, fully managed solution driven by a modular approach that aims to educate the end user in bite-sized chunks, one module at a time.
Having gained ISO 27001 certification, you can trust that Bob's Business understand the compliance requirements and how their solution can support your organisation in developing a secure culture.