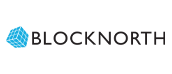 Blocknorth is a dedicated blockchain technology company based in the North East, who are committed to unlocking disruptive technology for organisations. Our goal is to be the foremost provider of blockchain learning content, and our broad approach is to make this content affordable and accessible on-demand.
This is blockchain technology learning for everyone to understand. Blocknorth courses are designed to give you a full and clear understanding of blockchain technology and its impact on business and the wider world. Our courses uniquely present blockchain in a way that is simple-to-grasp and will equip you with the practical knowledge to take advantage of this transformative technology.
All courses are CPD accredited.